Pre Hung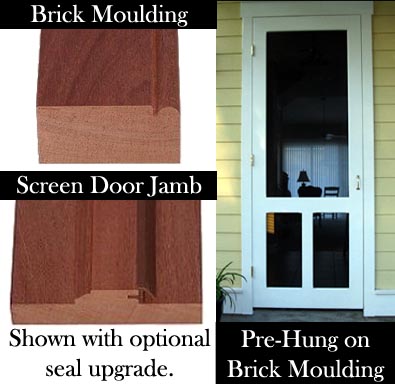 Pre-Hung on Brick Molding: (Use on Existing Entry Doors)
For an easier installation with an existing entrance unit Vintage Doors can pre-hang your screen and storm door on matching brick molding.
Simply remove the old brick molding from your entrance unit, replace with the new pre-mortised brick molding and then attach your door. Your new screen and storm door will close shut against the face of your entrance door's jamb. This option can save you time and money on installation of your new door. Standard brick molding is 2" wide x 1 1/8" thick.
Pre-Hung on Door Jambs: (Use between porch posts)
Any of our Screen doors can be pre-hung using matching solid wood jambs. Pre-hanging is not necessary for your screen door if the door can be hung within your existing entrance door jamb.
In special circumstances where you do not have enough jamb space to attach your screen door or for new porch construction we can help you out by making jambs and pre-hanging your screen and storm door.
You can choose to have you screen door pre-hung on jambs with or without seals.