| | |
| --- | --- |
| 0 Items to Quote in My Project Cart | |
Porch Panel Enclosures with Screen & Glass for Craftsman Style Homes

| | |
| --- | --- |
| 0 Items to Quote in My Project Cart | |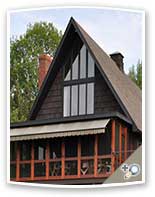 Add beauty, value and functionality to your Arts & Crafts home with our Craftsman Porch Enclosures. Turn your porch into a three season room easily with our custom made, handcrafted, solid wood porch panel enclosures. Each porch panel enclosure system is custom tailored to the measurements of your porch. You simply measure the openings between your posts and we calculate the number of panels you need to enclose your opening. Transoms can be added above panels for tall porch openings. We can even pre-hang matching screen doors for openings that require a door. When winter arrives you simply remove the screen panels and replace with glass to keep the cold weather outside. Sunlight heats your porch on sunny days but you can add a small heater to crank up the temps for those cold winter days. When spring arrives, pop your screens back in. It is that simple to transform your wide open porch into a fully functional, warm, insect free space year round. Call our porch system designers today for a free consultation and advice on your screen porch project.
Craftsman Style Porch Enclosures Featuring: Removable Screen & Storm Inserts
Enclosures handcrafted for your Arts & Crafts Style porch that allow you to install glass panels in lieu of the screen as winter approaches. This unique setup also makes our porch enclosures easy to finish, install and maintain.
Screen Insert Possibilities: Fiberglass (standard), Black and Silver Aluminum (upgrade), Copper (also referred to as bronze), Pet Resistant, No See Um, Clear Advantage (high visibility)
Storm Insert Possibilities: Clear Tempered Glass, Low E Tempered, call us about Beveled and other Pattern Glass Options
Screen & glass frames are made with your choice of bronze (when staining) or white (when painting light colors).
Purchasing Made Simple
| | |
| --- | --- |
| | Submit Your Quote |
| | Proposal with Drawing Sent |
| | Review for Accuracy + Place Order! |
Craftsman Style 3 Season Porch Panels